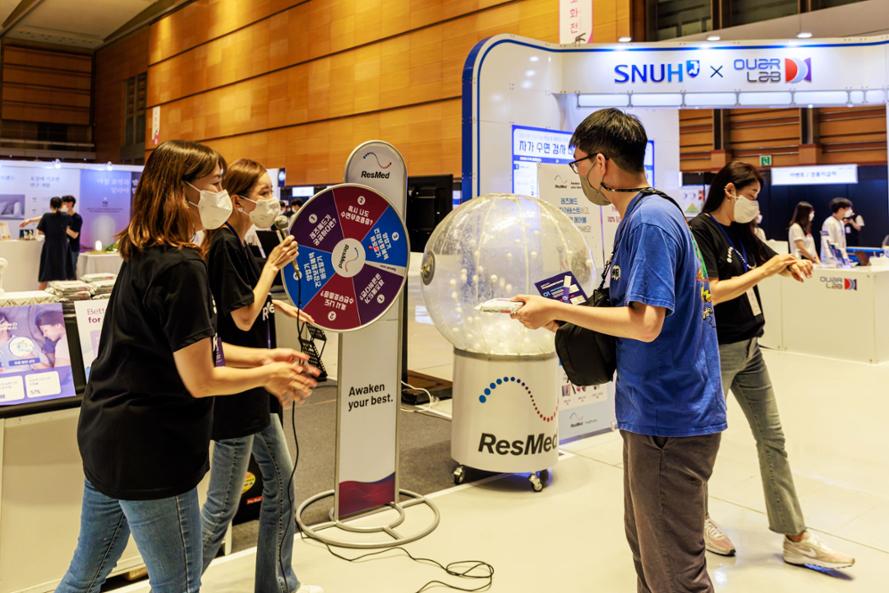 Korea 'Sweet dream' project, Sleep Tech 2022 successfully held
3 days from July 15th to 17th at COEX Hall D... Sleep related products exhibition and consultation/seminar
[MedigateNews] SleepTech 2022, which celebrated its 3rd anniversary this year, was successfully held at COEX Hall D (3rd floor) in Samseong-dong, Seoul for three days from the 15th to the 17th.
Under the slogan of 'Everyday Good Morning', this exhibition presents new sleep health trends and directions, and provides consumers with opportunities to find, experience, and receive advice on products tailored to their own sleep patterns. It is hosted by MediC&C, which operates Medigate, the largest medical doctor portal in Korea, and is organized by Medigate News and Korea Sleep Tech Association (KSTA).
'Sleep Tech 2022' aims to increase the awareness of the importance of sleep health, to make people recognize sleeping disorders as a disease, and to contribute to the growth of the already growing sleep industry.Various sleep-related products can be purchased at discounted prices, and there were one-on-one consultations on sleep health by the doctors, special seminars on sleep health, talk concerts by sleep tech companies, and sleep idea contests.
While the Sleep Tech had laid its foundation by successfully holding the 1st and the 2nd Exhibitions in 2020 and 2021 respectively, the 3rd Exhibitionhad its focus on positioning the show to present the products and technologies of sleep health and the sleep industry.
In the health consultation booth of the Korean Society of Sleep Medicine, one-on-one consultations with the professorsof medicine were held to solve sleeping problems.During the three days of the fair, sleep health seminars were held on the topics such as sleep and the risks of related diseases, all about insomnia, customized sleep health solutions for each age group, and how to practice sleep hygiene.The seminar was attended by four sleep-related societies: the Korean Academy of Sleep Medicine, the Korean Society of Sleep Medicine, the Korean Sleep Research Society, and the Korean Society of Sleep and Breathing.
At Sleep Tech 2022, Sleep Tech Talk Concert by the Korea Sleep TechAssociation (KSTA) will also be held.The Korea Sleep TechAssociation was launched for information exchange and mutual cooperation, led by companies with innovative sleep-related technologies.The members of the Sleep Techn Association have prepared a forum for information exchange on the use of sleep technology data for investors, large corporations, and medical and engineering researchers interested in sleep technology.
By Sol Im