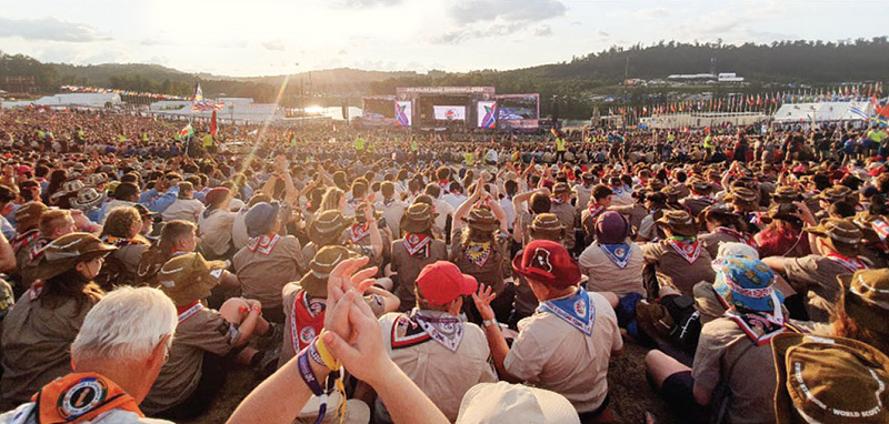 "Doctors express concerns about participating in Jamboree competition for global youths - 'There will be casualties if we proceed as Is'
Medical teams from Jeonbuk, including the Korean Medical Association and hospitals, were dispatched to provide medical support, but the on-site medical assistance situation remains inadequate.
[관련기사=
잼버리대회 참여한 세계 청소년들 걱정하는 의사들 "이대로 강행하면 희생자 나온다"
]
[MedigateNews] Amidst the World Scout Jamboree, which is taking place in SaeManGeum, Jeonbuk's Buan County, from the 1st to the 12th of this month, the voices of Korean doctors expressing concern for the health of more than 43,000 global youths continue to resonate.
According to the medical community on the 5th day, the most serious condition that can occur during the ongoing heatwave with temperatures reaching up to 36 degrees celsius is heat-related illnesses. Prolonged exposure to a hot and humid environment can lead to symptoms such as nausea, vomiting, dizziness, altered consciousness, fainting, and muscle cramps. As of the 4th afternoon, there were more than 500 cases of heat-related illnesses reported within the Jamboree campsite, and the number of individuals seeking medical attention for other insect bites and symptoms has exceeded 1,000.
Especially at the Jamboree site, there have been many cases of dehydration, requiring urgent administration of fluids for rapid intervention. Additionally, there is a need for managing symptoms related to gastrointestinal disorders such as headaches and diarrhea due to sun allergy and insect bites, among other outdoor activity-related conditions.
From the 4th day until the closing day, the Jeonbuk Medical Association organized a medical support team consisting of 26 doctors, 2 nursing practitioners, and 1 physical therapist on a rotational basis. They also provided 1,100 units of emergency intravenous fluids in collaboration with various hospitals.
The Korean Medical Association's Emergency Medical Support Team also began its operation on the 5th day. Not only local hospitals like Jeonbuk University Hospital, Wonkwang University Hospital, and Yesu Hospital participated but also major hospitals from the Seoul area, including Severance Hospital, Korea University Medical Center, and Chung-Ang University Hospital, offered their assistance.
Currently, following the early departure decisions of participating countries such as the United Kingdom and the United States, various national delegations are in discussions regarding the possibility of early withdrawal from the Jamboree.
In response to this, Chairman Lim Hyun-taek of the Korean Society of Pediatric and Adolescent Medicine stated, "The weather conditions with temperatures reaching as high as 36 degrees Celsius and humidity exceeding 50% at the campsite, which was created by filling in tidal flats, are entirely unsuitable for young people to pursue their dreams, especially after the concentrated heavy rain." He further emphasized, "Heat-related illnesses can pose a fatal medical issue when severe."
The on-site medical support situation has also been reported as inadequate. There is no separate uniform for medical personnel, and they are required to bring their own gowns. Furthermore, there is a lack of medical equipment.
Even the meals for the medical team are not properly provided, forcing them to individually prepare their own meals and snacks. Concerns from the medical community arise regarding the K-pop festival scheduled for the 6th day, as it may become challenging to provide real-time assistance if there is a large outbreak of youths fainting due to heat-related illnesses.
Kim Jae-yeon, Vice Chairman of the Jeonbuk Medical Association, stated, "If the K-pop festival proceeds as planned, there is a high risk of a simultaneous occurrence of numerous patients collapsing due to heat-related illnesses in a situation where more than 40,000 youths are gathered. It would be difficult to promptly provide treatment or urgently transfer them to hospitals."
He further added, "With only a small number of doctors dispatched, it is challenging to carry out emergency medical responses, resembling a battlefield hospital. For the health and safety of the youths, the Jamboree should be suspended early."
by Sol Im