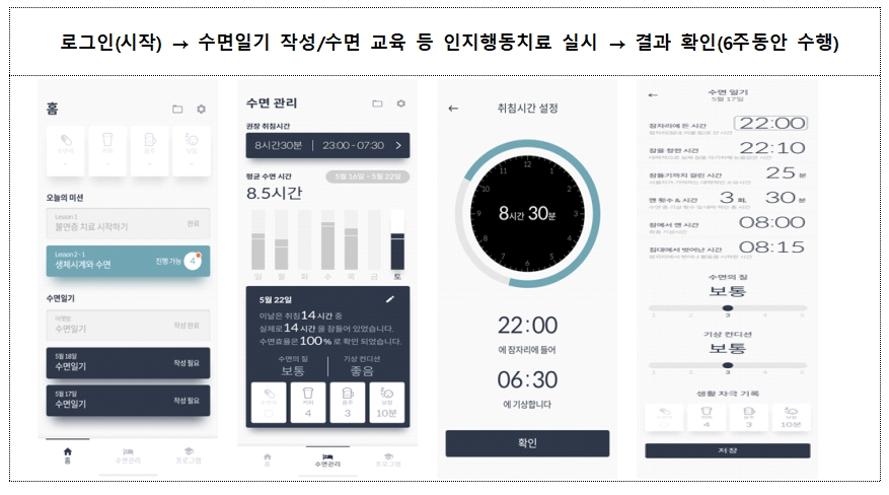 [관련기사 =
국내 두 번째 디지털치료기기도 불면증 개선…웰트 'WELT-I'
]
The second digital therapeutic device for improving insomnia in Korea, 'WELT-I,' developed by WELT
Based on the data entered by the patient, the device improves the patient's insomnia over a period of 6 weeks.
The second digital therapeutic device (DTx) in South Korea is also dedicated to treating insomnia. The Ministry of Food and Drug Safety (MFDS) approved the manufacturing license for cognitive therapy software (product name: WELT-I) developed by WELT on April 19th.
Digital therapeutic devices refer to software medical devices that provide evidence-based therapeutic interventions to patients for the prevention, management, and treatment of medical conditions or disorders.
The newly approved WELT-I is a software medical device that implements cognitive-behavioral therapy for insomnia as a mobile app. It has been approved for use in improving the symptoms of insomnia patients by enhancing sleep efficiency.
Cognitive-behavioral therapy for insomnia is a treatment that aims to intervene and correct psychological, behavioral, and cognitive factors that perpetuate or worsen insomnia. It is a preferred treatment method for chronic insomnia and includes techniques such as sleep evaluation, stimulus control therapy, sleep restriction therapy, sleep habit education, cognitive therapy, and relaxation therapy.
This product is a software medical device that improves insomnia by implementing a six-week program based on the sleep diary data entered by the patient. The program includes ▲ personalized recommendations for optimal sleep time, ▲ behavior intervention to improve sleep quality, ▲ analysis of sleep-disrupting habits, and ▲ relaxation therapy to reduce tension and anxiety. To confirm the effectiveness of symptom improvement for insomnia, patients need to complete all six stages of the program within six weeks provided by the product.
While both the first and second digital therapeutic devices are the same for implementing cognitive-behavioral therapy for insomnia as a mobile app, they differ in terms of the manufacturer and the algorithm used to implement the therapy, as well as the user interface (UI), user experience (UX), and duration of use. Specifically, the first digital therapeutic device is used for 6-9 weeks, while the second product is used for 6 weeks.
This product should not be used in cases where drowsiness caused by sleep deprivation can lead to serious accidents in the workplace or daily life, and in individuals at high risk of sleepwalking, night terrors, seizures, falls, or other unstable or degenerative conditions, as the use of this product may worsen their underlying conditions. If any side effects occur during use, it is recommended to report the fact to a medical institution that has received treatment, the manufacturer of the medical device, or the electronic complaint window for medical devices to inform the Commissioner of the Korea Food and Drug Administration.
Kang Sung-ji, CEO of WELT, stated "Swift regulatory establishment and tailored consultation from MFDS were the driving force behind the rapid release of our digital therapeutic device." He went on to say "We will continue to develop and advance WELT-I by exporting it worldwide."
by Min-ji Seo