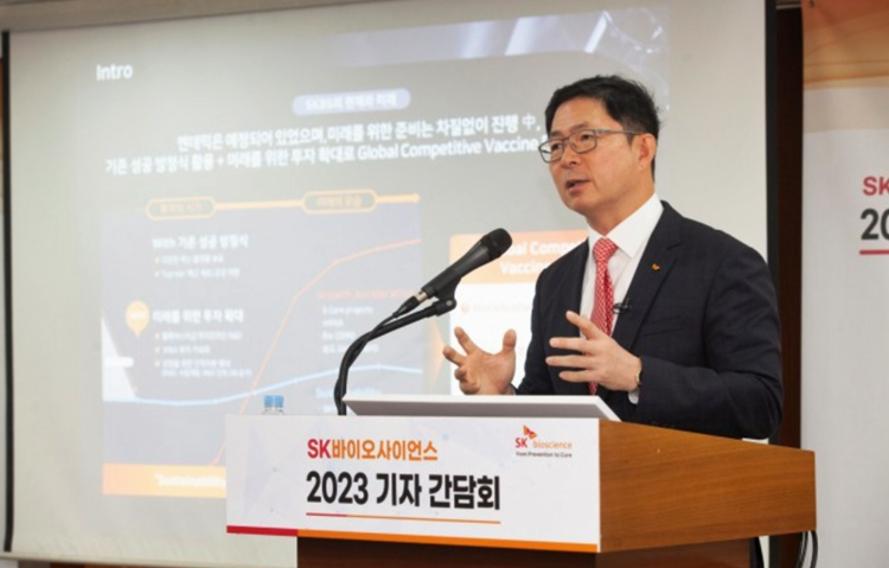 [관련 기사 =
SK바이오사이언스 "향후 5년 집중 투자 시기…마이너스 성장에도 미래를 위한 길"​
]
SK Bioscience announces "Investment of 2.4 trillion won over the next 5 years despite negative growth"
Jae-yong Ahn, CEO of SK Bioscience, unveils plans to boost global competitiveness
During a recent press conference, Jae-yong Ahn, SK Bioscience CEO expressed "He determine to pursue concentrated investments over the next five years to secure global competitiveness, despite the rapid changes in business environment due to the endemic."
SK Bioscience aims to invest 2.4 trillion won, nearly five times the amount invested in the past five years (2018-2022), over the next five years, according to CEO Jae-yong Ahn at a recent press conference. The company plans to pursue detailed strategies, including ▲ expanding overseas businesses, ▲ strengthening its vaccine business, ▲ securing new platforms, and ▲ expanding its portfolio and infrastructure to respond to endemics.
First, SK Bioscience plans to expand its presence in overseas markets and expand its CDMO (contract development and manufacturing organization) business to secure competitiveness. It aims to transfer its vaccine development, manufacturing, and production capabilities to foreign governments and partners, and build production infrastructure tailored to each country demands. CEO Ahn stated "We are currently reviewing specific CDMO contract terms with many companies, and we expect to sign a contract with a global big pharma as early as the first half of this year," and "We anticipate one CDMO M&A deal for cell therapy and gene therapy by the end of this year."
In particular, for the new CDMO business, SK Bioscience plans to expand not only its portfolio of new infectious disease vaccines but also to leverage it as a business opportunity linked to the future pandemic prevention policies of advanced countries by supplying its products to the US government, global institutions, and beyond. To strengthen the global competitiveness of CDMO products, SK Bioscience will establish a "Global R&PD Center" in Songdo, Incheon, and build a cGMP-level production facility, the "Pilot Plant," which will be actively utilized in the CDMO business.
SK Bioscience plans to increase its annual sales of the existing core product, the vaccine business, to around 440 billion won and reach 2.2 trillion won by next year. In addition, it will accelerate its medium to long-term growth by expanding its R&D pipeline with five blockbuster products: △Next-generation pneumococcal vaccine △Human papillomavirus vaccine △Recombinant shingles vaccine △Pan-sarbeco universal coronavirus vaccine △Respiratory syncytial virus vaccine.
In addition, SK Bioscience actively pursues acquisitions and mergers to secure new platforms such as mRNA that will be the basis for sustainable growth. In particular, it has been selected as the first project for the CEPI (Coalition for Epidemic Preparedness Innovations) program to support the development of a novel screening platform for RNA vaccines and vaccine libraries for infectious diseases. The company is currently conducting research on mRNA vaccine platforms for Japanese encephalitis virus and Lassa fever virus.
Meanwhile, with the possibility of annual vaccinations due to the COVID-19 endemic, it is also working to strengthen its foundation to respond to not only existing infectious diseases but also new pandemics. Based on its experience developing the SKY CoV-2, it is also actively conducting research on △ multicomponent vaccines responding to various mutations, △ a universal coronavirus vaccine targeting Sarbecoviruses, and △ an innovative drug in the form of a nasal spray for broad-spectrum virus prevention and treatment.
SK Bioscience CEO Ahn said, "Starting now, the next five years will be a crucial period of active investment for SK Bioscience, and we will secure global competitiveness to grow quickly and systematically, so that Korea can become a vaccine and biotech powerhouse."
by Min-ji Seo