[관련기사=
코로나 엔데믹에도 감기약·해열제 공급난 지속…범정부적 협력 체계 구축 불가피
]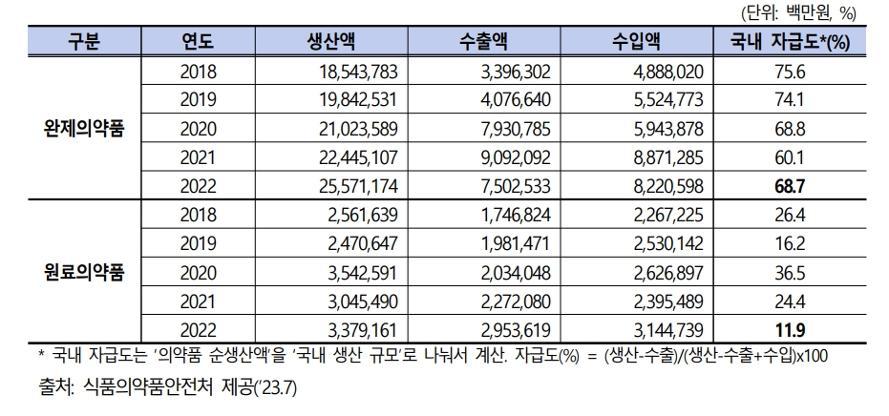 Despite the COVID-19 endemic, shortages in cold and fever medications persist "Establishing Cross-Governmental Collaboration System is Inevitable"
During the COVID-19 pandemic, there was a surge in demand for essential medications such as acetaminophen, ibuprofen, amoxicillin, and other life-saving antipyretics, analgesics, and antibiotics in the United States and various countries. However, shortages of active pharmaceutical ingredients, production capacity constraints, delayed shipments, trade restrictions, and impacts on the global supply chain led to a scarcity of pharmaceuticals.
On the 30th, the Korea Pharmaceutical and Bio-Pharma Association published a global issue panorama report on the theme of 'Drug Shortages and Responses in Major Countries,' highlighting that such shortages persist even during the end of pandemic. The report urged a cross-governmental response to address this ongoing phenomenon.
Despite the transition to an endemic phase, a compounded set of factors, including supply chain crises triggered by the pandemic, contraction of the generic market due to low-cost policies, and quality issues, have exacerbated the global pharmaceutical shortage.
Domestically, the scarcity of medications continues, with concerns ranging from the supply instability of pseudoephedrine formulations due to the increased number of patients with respiratory conditions such as cold, fever, and allergies.
As of 2022, the self-sufficiency rate for finished pharmaceutical products in South Korea stands at 68.7%, while the self-sufficiency rate for pharmaceutical raw materials is only 11.9%. This limited self-reliance raises concerns about the ongoing scarcity of medications such as cold remedies and antipyretics. Of particular note is the fact that China and India collectively account for 50.1% of the imports of pharmaceutical raw materials from the top 10 countries, highlighting a vulnerability to a collapse in the global supply chain.
The United States has experienced supply instability since before the COVID-19 pandemic due to low generic prices, and Europe has faced disruptions in supply due to increased demand for antibiotics following a surge in infections, the Russia-Ukraine war, manufacturing delays, and insufficient production capacity. In Japan, a situation arose where 32.5% of generics encountered supply issues amid disruptions.
The association stated, the U.S. has implemented incentive policies to enhance self-sufficiency, is strengthening cooperation with allied countries, and is actively promoting domestic production of pharmaceutical raw materials. Europe is also expanding collaboration with suppliers and increasing manufacturing capabilities through the Medicine Shortages Stakeholder Platform (MSSG).
Japan has proposed response measures, including evaluation of drug pricing systems for generic support, enhanced regulations to reduce Good Manufacturing Practice (GMP) violations, and the establishment of a flexible supply chain through joint procurement and transparency improvements in raw material sourcing when necessary.
As of March this year, the Korean government has been formulating response measures, including the announcement of the third comprehensive plan for fostering and supporting the pharmaceutical and bio-industry. This plan aims to ensure timely supply of essential medications and enhance regulatory innovation and support for self-sufficiency in pharmaceutical raw materials.
Additionally, for essential medications not subject to supply interruption or without permits in other countries, the government has expedited the approval process and promptly raised the maximum amount. Alongside these initiatives, there have been added support policies, such as incentives for research and development as well as production to promote domestic manufacturing of pharmaceutical raw materials.
However, it emphasized that merely stopping at these institutional improvements would not be sufficient, and stressed the necessity of cross-governmental cooperation to prepare for the threat of future unknown infectious diseases, often referred to as Disease X, and to address pharmaceutical shortages. The association stated, "Through public-private collaboration, it is essential to clearly identify the factors contributing to pharmaceutical shortages and enhance ongoing monitoring and analytical capabilities."
It further emphasized the need to strengthen pharmaceutical production and development capabilities through initiatives such as Quality by Design (QbD), factory automation, and smart manufacturing processes, securing pharmaceutical sovereignty. The association underscored the importance of expanding support for research and development in vaccines and therapeutics and establishing an innovation system.
Additionally, it suggested initiatives such as expanding tax benefits for improving self-sufficiency in raw materials, promoting effective essential drug price increases, and providing incentives.
By Min-ji Seo